On Tim Wakefield, oldest active player in Red Sox history
February 19th, 2012 at 16:13
On Friday, Boston Red Sox pitcher Tim Wakefield announced he's retiring after 19 seasons in the major leagues, 17 of which were with the Red Sox.
Wakefield got his 200th career win this past season. Of those 200 wins, 186 were with the Red Sox. Sports Jedi Luke Knox put together this chart showing Wakefield's wins and how he stacks up with other Sox players.
Indeed, among Red Sox pitchers, he's high on many leader lists, right up there with Cy Young and Roger Clemens.
There's another distinction that Wakefield earned in the 2011 season: he became the oldest active player in the history of the Boston Red Sox, including the time when the team was called the Boston Americans in the early 1900s. On Tuesday, May 10, 2011, Tim Wakefield was 44 years, 281 days old, a day older than Deacon McGuire was when he played final game for the team in 1908.
It seems like a nitpicky distinction, but it's one I will remember, because it was the topic of one of my first enterprise graphics at The Boston Globe. Click for a larger view.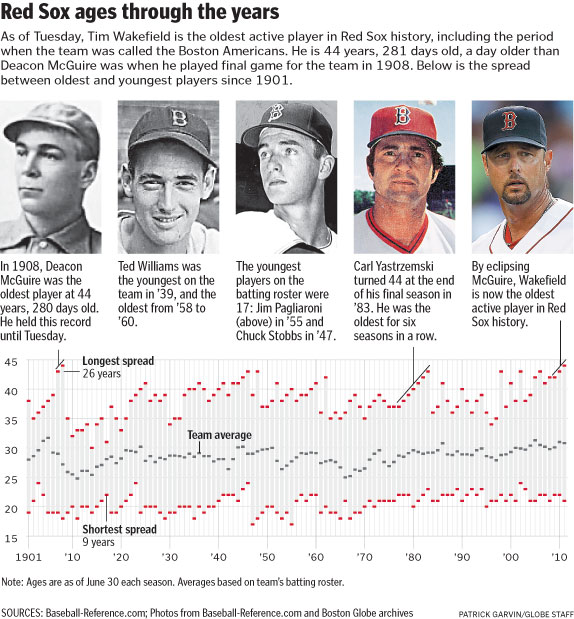 When I first got to the Globe in November 2010, I knew I wanted to learn more Flash. And I knew I wanted a project about the Red Sox. And I know that for both, the man to talk to was Daigo Fujiwara, who knew Flash and Red Sox baseball very well. He has his own baseball sites and even hosts a Red Sox podcast.
In talking with him, I mentioned Jamie Moyer, whom I had just seen mentioned in an article as being the oldest player in major league baseball in the 2010 season. A few years behind him in age was Boston Red Sox pitcher Tim Wakefield. I went home and did some research on Baseball-Reference.com, and found that there had been other Sox players who played at the age of 44. But a comparison of birthdays showed that none of them had been as far into 44 as Tim Wakefield. Some time into the upcoming 2011 season, Tim Wakefield would become the oldest Red Sox player in the history of the team.
I told my boss that this might be a fun project to work on in my down time at work when I didn't have any other pressing projects. That is, if he thought people would be interested. "Almost anything Sox-related gots lets of traction in this town. People will definitely be interested."
So, using Baseball-Reference.com, I created a spreadsheet. I noted the youngest and oldest player of each season, dating back to the days when the team was The Americans. Additionally, Baseball-Reference determines the average age of every player on the team, so I included that as well. It was a tedious task, going through each page for each season, looking through their rosters. But a pretty cool data table was shaping up.
When finished, I plugged the data into Illustrator's graph tool, showing the youngest, oldest and average ages per season. The nut graph was that there were no noticeable trends. Carl Yastrzemski played for a bit when he was 44, but was a younger 44.
Throughout the winter of 2011, when I had no more dailies or short-term projects on my plate, I would turn to this project, and how we would present it online. Using the Actionscript from projects I had worked on with Daigo, I created a template for what the Flash version would be. I turned the Excel spreadsheet into an XML file that fed into the Flash file. While the print version had been a static version of the chart, the Flash version would allow the user to roll over each year and see the oldest and youngest players. My boss, David Schutz, suggested I include photos of each player. The aforementioned Luke Knox directed me to some old Red Sox press guides, which is where I found the bulk of the photos.
So, by the end of April, this thing had come together in bits and pieces over a period of several months. On Tuesday, May 10, the day that Wakefield became the oldest active Red Sox player, we ran the graphic in the sports section of The Boston Globe, and this interactive went live on Boston.com.
To this day, it's one of my favorite things I have ever done, especially at The Globe. Of course, by the time Tim Wakefield was the age I am now, he had already won 56 games in the majors.
Not bad. Indeed, not bad.

Tags: boston, boston globe, newspapers, red sox, sports