April 17th, 2015
The Rock and Roll Hall of Fame's 30th Annual Induction Ceremony is Saturday. This year, the inductees are notable for who is getting in on their first year eligible and who is finally getting in after languishing in the ether for years. And, ss with most years, who isn't being inducted is just as notable as who is.
This year's inductees:
Ringo Starr
The "5″ Royales
The Paul Butterfield Blues Band
Green Day
Joan Jett & the Blackhearts
Lou Reed
Stevie Ray Vaughan & Double Trouble
Bill Withers
Notably not among this year's inductees:
Chic
Kraftwerk
The Marvelettes
N.W.A.
Nine Inch Nails
The Smiths
The Spinners
Sting
War
Among past inductees:
Daryl Hall and John Oates
Randy Newman
David Geffen
Madonna
Public Enemy
Run D.M.C.
Beastie Boys
Donna Summer
R.E.M.
I mention past inductees not to throw shade on those inductees, as that list includes some of my favorite artists. I merely mention those artists for context. In other words, why those guys and not their counterparts who've been neglected?
This year was the first year that both Green Day and Nine Inch Nails were eligible. Joan Jett & the Blackhearts have been eligible a few years now. Ringo Starr, Lou Reed, and Bill Withers have been eligible for decades.
The interesting thing is that while both Green Day and Nine Inch Nails were eligible for the first time, Green Day was inducted and Nine Inch Nails was not. These two have more in common with each other than they do with any of the others who were inducted or eligible but not inducted, which is why inducting one and omitting the other seems so noticeable. To put this in perspective, let's think of the Rock and Roll Hall of Fame like the Baseball Hall of Fame, and let's think of Green Day's and Nine Inch Nails' respective genres — punk and industrial — of music as Major League Baseball teams.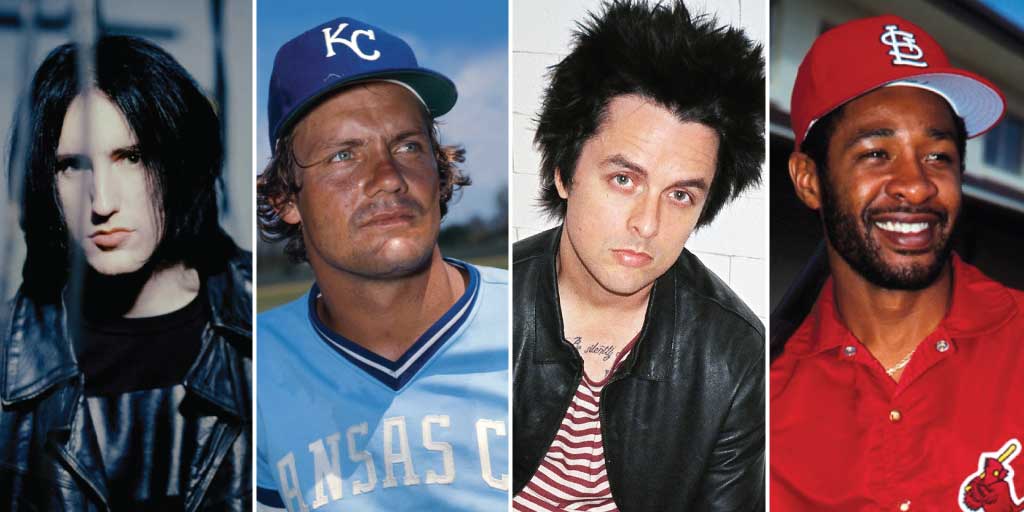 Punk is like the St. Louis Cardinals, having had several inductees in the Hall of Fame: Patti Smith, The Sex Pistols, The Ramones, The Clash. Green Day, thus, is the genre's Ozzie Smith: immensely popular and one of the more well-known players of the last 30 years. They aren't the all-time best, but they are considered up there, particularly among younger fans. And don't think age doesn't matter in the context of punk. Any punk fan of a certain age can't have a barstool or coffee shop conversation about punk without bringing up Green Day and modern acts just to point out how inferior they are to the forefathers, whether it's because Billy Joe affects an over-the-top faux-British accent whine or because the band has moved into "Time of Your Life" ballad-type cheese. Now, I don't think any Cardinals fan will ever dare hate on Ozzie, but if you ask Cards fans who their favorite shortstop is, age will divide your answers: Ozzie among younger fans, Marty Marion among older fans. Marty Marion, like the punk band Black Flag, never made it into the Hall of Fame. But both were among the best at their game.
If punk is the St. Louis Cardinals, and the goofy Green Day is its backflipping Ozzie Smith, then industrial music is the Kansas City Royals and Trent Reznor is its dour-faced George Brett. Ozzie Smith, a contemporary of Brett's, was one of many beloved players for the Cardinals. But there is no Royals player more beloved or well-known than George Brett. If you're only a casual baseball fan, then Brett is probably the only Royals player you can name, just as Reznor and Nine Inch Nails are the only industrial act that mainstream music fans probably know. Nine Inch Nails' "Closer" off 1994′s "The Downward Spiral" cemented Reznor's stature the way that the Royals' 1985 World Series win cemented Brett's. Only fans with some deeper knowledge would really know much about:
Dan Quisenberry, who was the Royals' version of Ministry
Bret Saberhagen, who was Kansas City's Skinny Puppy
Frank White, KMFDM to Brett's Reznor
Amos Otis and Hal McRae, the Die Krupps and Throbbing Gristle who set the stage
Carlos Beltran, the Frontline Assembly to Saberhagen's Skinny Puppy
If you only knew a few of those bands or players, you prove my point: George Brett is the standard-bearer of the Kansas City Royals and Trent Reznor is the commercial face of industrial music. Not that these are bad things. Neither guy is anything to sneeze at, to be sure. Brett is one of four players in MLB history to accumulate 3,000 hits, 300 home runs, and a career .300 batting average. The others being Hank Aaron, Willie Mays, and punk rock St. Louis Cardinal Stan Musial. Brett had longevity, being the only player in MLB history to win a batting title in three different decades. Reznor has had success not only with Nine Inch Nails, but in his film scores as well. The man has won Golden Globes, Grammy awards and an Oscar. He's immensely talented and driven, which is why he's still recording and performing 26 years after 1989′s "Pretty Hate Machine" introduced many squares to industrial music.
I'm hammering this point home like George Brett's 3-run home run off Goose Gossage in Game 3 of 1980 ALCS because the Rock and Roll Hall of Fame has managed to have artists from almost every genre of rock. Nine Inch Nails' induction would give industrial a presence that no other mainstream commercial artist could give. They're certainly not going to induct Al Jourgensen. (Or Dan Quisenberry.)
Of course, these things aren't always fair, which is why Bill Withers is just now being inducted. Or why Daryl Hall and John Oates got in before Stevie Ray Vaughan. Or why Chic hasn't been inducted yet. Or why so many others aren't in the Hall of Fame. Finding instances of unfair omissions in the Hall of Fame's history is like finding MLB players who used steroids: not difficult. Pontificating on all of those oversights would take a while. A lot more than nine innings.
The main thing to remember here is that contemporaries George Brett and Ozzie Smith each entered the Baseball Hall of Fame when eligible. I don't think many fans would disagree, nor would any fan argue that either one shouldn't have been inducted.
Thus, if Green Day can enter but Nine Inch Nails can't, well…
Wake this basketcase when September ends.