December 9th, 2013
After reading coverage recent study about what makes charts memorable, I was convinced that there is a fundamental divide not only on what constitutes an information graphic, but also on what graphics are meant to do.
I have spent almost 10 years of my life making information graphics. I have moved to another state to take an infographics job not once, but three times. I do not consider maps, charts or diagrams to be a passing fad. Thus, I have a vested interest in how information graphics are received and perceived. I'll see links on news sites for and "INFOGRAPHIC," only to find that what I've actually clicked on is an image of icons, big numbers, some photos and flashy colors. Friends who have worked for great news agencies have shared recent freelance stories of clients choosing big numbers of multiple colors over data, charts and diagrams. Rather, in my estimation, they are rejecting actual infographics for something else, and they're calling that "something else" an infographic.
Thus, it was with this sense of frustration that I read a bout a recent study in which people were shown multiple visualizations of data and asked which ones were most memorable. Examples with photos, logos, icons and colors were more memorable than basic charts or pie graphs. Does this serve as validation for the dressed-up web images we see billed as "infographics" on Tumblr, Pinterest and elsewhere these days?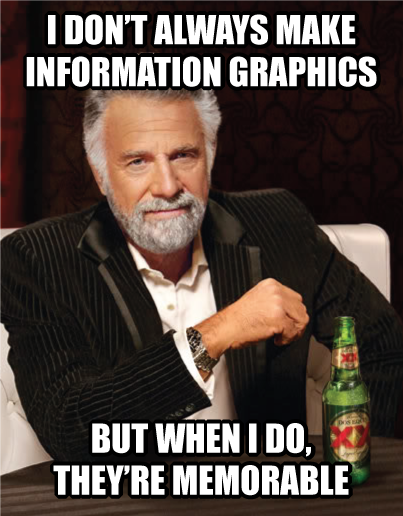 Fortunately, no. Doctoral student Michelle Borkin of Harvard's School of Engineering and Applied Sciences, who helped conduct the study, said "Icons, images, and human-recognizable objects will instantly make [a visualization] more memorable… But there's this very careful caveat — and this is me speaking as a viz design person: make sure they're helping your reader understand the main point of your data."
I'm glad Borkin made that last point. If you remember a graphic's presentation but you don't remember the graphic's content, is that really a success? I've seen pie charts made with actual pies, showing data from Thanksgiving studies. Or so I think. I remember the chart, but I have no memory of what it was trying to tell me.
When discussing this with colleagues at work, I said that while I do not remember all the specific articles I read on Sept. 12, 2001, I do remember the information in those articles. And I think the information and story itself is much more important than the vessel that brought you that information and story, whether the vessel was an article or an information graphic. When you're showing a declining crime rate, what do you want the reader to ultimately remember: the trend in crime, or that you used a 75% Periwinkle 2-point stroke on the fever chart over two columns? As long as they remember that they saw the chart, and the information within, then I'm happy.
Sometimes, a graphic will require more images and colors than a simple stock chart. But I'd reiterate that decisions made in making infographics should be made because the chart requires it and it helps communicate your ultimate point. If we are adding elements just to "dress it up" or to "make it pretty," we're losing focus of the goal of an information graphic. Like a good news article, a good information graphic should convey information clearly in a way that does not confuse the reader. If we end up making decisions about infographics not based on the content, the graphic suffers.
There is a tendency for photos and graphics to be referred to as the page's "art." If the lead art falls through, the other photos and graphics on the page sometimes have to change to make up for it. On the idea of information graphics as art, Charles Blow of The New York Times once famously said: "I would like to make a distinction between information graphics and art in terms of their missions. Art need serve no purpose but to express the vision of the artist. On the other hand, the highest purpose of an information graphic is to clearly express the relationships among data. That said, if someone should call a chart art because of its beauty or message, that person would get no argument from me."